Director's Message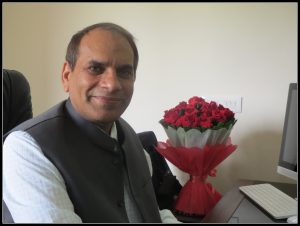 The AcSIR was established in 2010 (by a resolution of GOI on July 17, 2010) and formalized by an Act of Parliament vide The Gazette of India (dated February 7, 2012) which was notified on April 3, 2012 as an Institution of National Importance.
AcSIR has been set up based on a 'Hub and Spoke' model where hub (AcSIR-HQ at Ghaziabad) is responsible for centralized administrative functions. The spokes are located in the 45 CSIR Laboratories (AcSIR Academic Centres) and 12 non-CSIR Institutes (AcSIR Associate Academic Centres) spread along the length and breadth of India, which act as the academic campuses of AcSIR. In addition, AcSIR has collaborative academic programs with other national and international educational institutions.
The AcSIR has been mandated to undertake high quality teaching and research in frontier areas of Science and Technology. This mission is to be achieved through Its students, who are engaged in research in the broad areas of Biological Science, Chemical Science, Engineering Science, Mathematical & Information Science, Physical Science, and other Inter- & trans-disciplinary areas of study.
Currently, AcSIR has about 6000 Students enrolled in Ph.D, Integrated Dual Degree Program (M.Tech+Ph.D), Integrated M.Sc-Ph.D, M.Tech, M.Sc. and PG Diploma courses and about 3769 students have already graduated from AcSIR.
Presently, AcSIR is ranked 2nd by "Scimago Institutions Ranking" (2021), 12th by "Nature index" (2021-22) and 18th "NIRF (2022) in the Research Category, among the academic institutions in India.
Dr. Rajender Singh Sangwan , Director, AcSIR